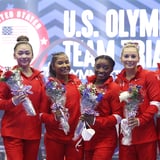 Simone Biles's much-anticipated Gold Over America Tour kicked off last night in Tucson, AZ, but if you weren't one of the lucky ones in the audience, Good Morning America gave us a behind-the-scenes peek into this "gymnastics-meets-pop-concert" extravaganza. And from the looks of the sparkly leotards and high-flying moves, the 35-city tour promises to be even more spectacular than we expected.
In the clip, we get a couple quick glances into the different dance and tumbling numbers performed by Biles and her fellow gymnasts. Biles put together an all-star team of Olympic and world champions and NCAA stars, including four of her Tokyo teammates (Jordan Chiles, Jade Carey, MyKayla Skinner, and Grace McCallum) and legends like Laurie Hernandez, Chellsie Memmel, Katelyn Ohashi, and Nia Dennis. "We do have the best of the best on this tour," Biles said. Each gymnast shows off her skills and gets a chance to tell her unique story: Chiles was shown doing her iconic Wonder Woman-themed routine (matching leotard and all), while Ohashi has a routine focused on her powerful journey with mental health and an eating disorder.
Biles herself is bounding through it all with her trademark energy and skyrocketing tumbling moves, starring in the show she said took her two years to bring to life. "It's going to be super exciting, especially since we didn't have fans in Tokyo," Biles said. "So for them to be able to come out and watch what we've worked really hard on is gonna be exciting." And is the show living up to the GOAT's expectations? "This is so much better than I think we all envisioned," she said. Take a peek for yourself in the clip above!