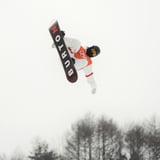 Shaun White has been raking in the medals for his superhuman snowboarding powers (with insane tricks like the Double McTwist 1260) since 2003 and started competing at the Olympic level in 2006 at the age of 19.
Before you watch him compete in the 2018 Winter Games, take a look back at his gilded Olympic track record. To date, Shaun has two Olympic gold medals, both from the Halfpipe competition: one from Turin in 2006 and one from the 2010 games in Vancouver.
Getty / Dan Istitene
But his gold collection isn't just limited to the Olympic Games. Shaun also holds the record for the most X Games gold medals - he has 13 from the Winter games for snowboarding and two from the Summer games for skateboarding. Across both Summer and Winter events for the X Games, he has five silver medals and three bronze.
We'll save you the math: that's 25 medals overall. And that collection could be growing pretty soon - stay tuned and keep your eyes on Pyeongchang 2018; the Men's snowboarding halfpipe gold medal final will be live on NBC Tuesday, Feb. 13 at 5 p.m. PT, 8 p.m. ET. If Shaun takes home a gold this year, he'll be the most decorated Olympic snowboarder of all time.